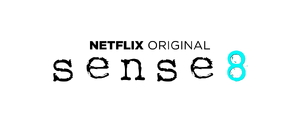 Sense8 is an American science fiction drama thriller web television series created by The Wachowskis (Lilly and Lana Wachowski) and J. Michael Straczynski, which started airing on Netflix on June 5, 2015. The series revolves around eight strangers from different parts of the world who suddenly become mentally and emotionally linked due to an unknown evolutionary leap. It explores subjects that its writers felt sci-fi shows tend to ignore such as politics, identity, sexuality, gender, and religion. As the sensates attempt to sort out why they became linked and what it means for them and for the future of mankind, a mysterious figure named Jonas works to bring the eight together, while another stranger - simply called "Whispers" - and his organization try to hunt down and capture or assassinate them.
Cast
[
]
Main Cast
[
]
Recurring Cast
[
]
Guest Cast
[
]
Production
[
]
According to the Wachowskis, the origins of Sense8 date back several years to "a late-night conversation about the ways technology simultaneously unites and divides us". Straczynski recalls when the Wachowskis decided to create their own series, they chose to invite him to San Francisco due to his experience working with the format, to brainstorm ideas. Both the Wachowskis and Straczynski agreed if they were to do a TV series, they would have to attempt to do something that had never been done before and change the "vocabulary for television production," the same way The Matrix became a major influence for action movies since its release. After several days of discussion they decided on exploring the relationship between empathy and evolution in the human race.
The trio became so excited with the concept they came up with, they decided to develop it on their own instead of pitching it to someone else and on October 2, 2012, Variety reported the Wachowskis had written three hour-long spec scripts and were set to shop them around L.A. the coming week, with the help of Straczynski's Studio JMS and Georgeville Television. If the series was picked up the siblings and Straczynski would share showrunner duties. Additionally the Wachowskis planned to direct a few episodes of the show if their schedule permitted it. According to Straczynski, the first meeting with potential buyers was with Netflix and it went really well. By noon and before they had the chance to pitch it to other outlets, such as HBO, Netflix called them to preemptively offer to buy and produce the first season. Netflix announced that they had ordered a 10 episode first season for the series on March 27, 2013.
Initial writing was split between the Wachowskis and Straczynski every few episodes. The Wachowskis wrote episodes one, two, three, seven and eight. Straczynski wrote episodes four, five, six, nine and ten. Then the Wachowskis rewrote Straczynski's episodes and vice versa. Straczynski said a good portion of the writing was just him and Lana. Lana Wachowski, a trans woman, has written her first transgender character in her career in the series; Nomi Marks. For that she partly used her own experiences. "It has some very intense, autobiographical scenes, and that was very difficult and surreal." said Lana.
During filming, because of the density of the scripts and the extended length of the first cut of the first episode, the showrunners and Netflix came to an agreement to extend the season to 23 episodes.
Straczynski hopes that the series will consist of five seasons. Before filming began Straczynski and the Wachowskis mapped out five seasons worth of stories for the series. Straczynski compiled a 30-page document detailing the key points of a hypothetical second season. The actors cast were signed for five seasons. "We pitched it as a five-year story. We've mapped out five seasons of this thing, our actor deals are being made for five seasons, five or six depending on the breaks," said Straczynski.
Comic book artist Steve Skroce who has been collaborating with the Wachowskis since The Matrix on both film and comic book mediums has created storyboards for the show.
Filming
[
]
To properly tell the international aspects of the story, filming took place on location around the globe in nine cities located in eight different countries: Chicago, San Francisco, London, Berlin, Seoul, Reykjavík, Mexico City, Nairobi and Mumbai. Production on the series began in June 2014 in San Francisco. The filmmakers successfully negotiated with the organizers of the Clarion Alley Mural Project and select artists, to feature their artwork in the show. Shooting in Chicago began on July 9, and wrapped up on August 8, with filming taking place both on location and at the Cinespace Film Studios. During location scouting the producers were suggested the City Methodist Church in Gary, Indiana, and changed one site's description in the scripts to a church accordingly. They also shot some scenes in Chicago's Superdawg drive-through restaurant, while customers were being asked not to stare at the filming. Lana and Andy are frequent customers of the place. Filming in Berlin was done partly in Babelsberg Studio. A sequence in Nairobi required a crowd of 700 extras, 200 cars and a helicopter. In Mumbai they shot a Bollywood dance number that included both English and Hindi lyrics and was choreographed by Slumdog Millionaire's Longinus Fernandes. In Mexico City, in Arena Naucalpan, they filmed a lucha libre (Mexican professional wrestling) event with the actors wearing wrestling masks.
In a few cases the production opted to shoot real life events and their audiences. In San Francisco, these include the Pride with its Dykes on Bikes on the Dyke March, and the Fresh Meat Festival of transgender and queer performance, and in London, a club scene taking place at the KOKO.
The show's directors were attached to locations instead of episodes and with all eight countries featured in every one of them, each episode ended up having multiple directors. The Wachowskis were responsible for directorial duties in scenes shot in Chicago and San Francisco along with London and Iceland, two places which were initially announced to be helmed by Straczynski. Straczynski eventually opted to offer them to the siblings due to the extensive stunt work required and instead focused his energy on post-production. James McTeigue (V for Vendetta, Ninja Assassin) worked on the Mexico City, Mumbai and Reykjavík parts and German director Tom Tykwer (Cloud Atlas), whose Nairobi Half Life production impressed the Wachowskis, helmed Berlin and Nairobi. Dan Glass, who has been the visual effects supervisor for every Wachowski film since The Matrix Reloaded, reprised his role in Sense8 while also making his directorial debut in scenes shot in Seoul. Executive producer Grant Hill estimates that in total the Wachowskis directed seven episodes, McTeigue and Tykwer two each and Glass one. The director of photography that worked with the Wachowskis is John Toll, who previously shot Cloud Atlas and Jupiter Ascending for them. McTeigue's cinematographer of choice is Danny Ruhlmann, who previously shot The Raven and Survivor for him. Tykwer worked with Frank Griebe and Christian Almesberger for the Berlin and Nairobi scenes respectively. Griebe had previously shot seven feature films of Tykwer's including Cloud Atlas and Almesberger was the cinematographer of two past films Tykwer produced in Nairobi; Soul Boy and Nairobi Half Life.
On November 17, 2014, Straczynski wrote that the main unit shooting had wrapped, with only a few winter shots in Iceland remaining to be captured the next month. These scenes were further delayed to mid-January 2015, until Iceland had the necessary amount of snow, with the wrap party taking place in Reykjavík's Harpa Music and Concert hall on January 21, 2015. By the end of the shooting the filmmakers had completed 100,000 miles of flight time, or four times around the globe.
Awards
[
]
Year
Award
Category
Recipient(s)
Result
Ref.
2015
Camerimage
First Look -- TV Pilots Competition
Lana and Lilly Wachowski (directors), Christian Almesberger, Frank Griebe, Danny Ruhlmann and John Toll (cinematographers)(for: "Limbic Resonance")
Nominated
2016
Dorian Awards
LGBTQ TV Show of the Year
Sense8
Nominated
Campy TV Show of the Year
Sense8
Nominated
GLAAD Media Awards
Outsanding Drama Series
Sense8
Won
HPA Awards
Outstanding Color Grading--Television
Tony Dustin (for "What's Going On?")
Nominated
Location Manager Guilds Award
Outstanding Locations in a Contemporary Television Series
Marco Giacalone and Bill Bowling
Won
Saturn Awards
Best New Media Television Series
Sense8
Nominated
Emmy Awards
Outstanding Original Main Title Theme Music
Johnny Kilmek and Tom Tykwer
Nominated
2017
Emmy Awards
Outstanding Cinematography for a Single-Camera Series (One Hour)
John Toll (for "Obligate Mutualisms")
Nominated
2018
Dorian Awards
LGBTQ TV Show of the Year
Sense8
Nominated
GLAAD Media Awards
Outstanding Drama Series
Sense8
Nominated
2019
Producers Guild of America Awards
Outstanding Producer of Streamed or Televised Motion Pictures
Marcus Loges, Alex Boden, Roberto Malerba, Terry Needham, John Toll, Lana Wachowski, J. Michael Straczynski, and Grant Hill (for "Together Until the End")[1]
Nominated
GLAAD Media Awards
Outstanding TV or Limited Series
Sense8
Nominated
Media
[
]
Images
[
]
Videos
[
]
See also
[
]
References
[
]
↑ The actual episode title is "Amor Vincit Omnia", but Netflix used the "Together Until The End" tagline to promote it.