This article or section needs to be expanded. Help the Sense8 Wiki with new informiaton. Thank you!
Janet Marks is a minor character in Season One and Season Two of Sense8. She is the mother to Nomi and Teagan.
Biography
[
]
Early Life
[
]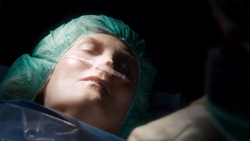 Some time ago, Janet fell in love with Lawrence Marks. The two married, and when pregnant with her first child, she birth to Nomi through Caesarean section instead of natural birth at a San Francisco hospital. Janet gave birth to her second child, Teagan Marks, a few years later, and raised both of her children in a welcoming and loving family.[1]
Nomi's Transition
[
]
After an incident during her childhood, Nomi began her transition. Janet refused to accept her gender identity and continued to call her by her birth name "Michael" and using male pronouns.[2]
Teagan stayed at her house, while Nomi left after reaching her mid to late twenties. After Nomi left, Janet, while disappointed at Nomi's decision, still cared for her and allowed her to live her life freely.[3]
Meeting Dr. Metzger and Reunion with Nomi
[
]
After Nomi fainted during a Gay Pride parade, she was sent to a hospital in San Francisco. Janet and Teagan visited Nomi while she was unconscious. Before she and Teagan gained permission to see Nomi, they were confronted by Dr. Metzger whom informed them that Nomi has Undifferentiated Frontal Lobe Syndrome and that it was spreading across her brain. Metzger then told Janet that Nomi could die in six months unless he performs surgery in order to prevent the growth of the syndrome. Janet agreed with Metzger and allowed the surgery to take place after Nomi's consent.
After Nomi regained consciousness, Janet and Teagan were present in the room to greet her until the nurse walked into the room and accidentally referred to Nomi as "Michael," citing the mother disliked her name. After lecturing Nomi on how she should not ride motorcycles and how Amanita is not present, she was repeatedly demanded to leave. Janet complied but requested that she and Teagan not leave until Dr. Metzger informs Nomi about her condition.
After Metzger arrived and informed Nomi about her UFLS, Janet was once more told to leave after continuing to call her by her birth name. Before returning home, she signed the medical forms from Metzger to have Nomi undergo surgery for her diagnosed syndrome.[4]
Final Day before Surgery
[
]
Two days after signing the medical forms, Janet returned to check on Nomi. After Metzger asked Nomi questions about events she was not involved with, Metzger told his nurse that Nomi's disease has worsen and demanded surgery to be done immediately.
Before being sent out by the hospital staff, Janet said her farewells to Nomi. After Nomi escaped from the hospital, Janet was informed, presumably by the staff at the hospital, that Nomi has gone missing. Janet did not see Nomi again after her escape and continued to live her life with her daughter Teagan.[5]
Teagan's Wedding
[
]
to be added[3] Nomi and Janet met again in Teagan's wedding. Janet said Nomi always ruins everything when Agent Bendix arrived to arrest Nomi. However, Nomi managed to avoid her arrest, continuing the wedding.
Nomi's Wedding
[
]
After their last encounter, Janet was forced by her husband to call Nomi by her name and treat her like a woman, like he did. Janet then assisted her daughter's weeding and she ate some brownies the fairies offered to her, presumably drugging her in a hilarious scene. Drugged, Janet finally accepted Nomi and said her name was beautiful, hugging her.
Personality
[
]
to be added
Relationships
[
]
Lawrence Marks: to be added It is assumed Janet loves her husband, as she listened to him when he told her to call Nomi by her actual name.
Nomi Marks: Initially, Janet displays love and support towards Nomi; however, upon transitioning into a woman, Janet continued to refer to her daughter by her now-dead identity and intentionally offends her under the guise that she "birth a son." Alongside Lawrence, she viewed her as a narcissist and often only thinks of herself. At the end of the show, Janet finally accepted Nomi after getting drugged.
Teagan Marks: to be added Janet supports her daughter in her wedding, as they presumably had a good relationship.
Appearances
[
]
Appearances of Janet Marks
References
[
]
[

]