I Am Also A We is the second episode of the first season and the 2nd overall episode of Sense8.
Nomi's fortunes take a dark turn, while the rest of the Sensates' connections become stronger and more dangerous.
In San Fransisco, Nomi and Amanita walk together in an alley while holding hands. Nomi shares her vision about Angelica's suicide, believing it was more than just a dream. Amanita tries to dismiss it and recommends that she stop watching cop shows, thinking that it messes her up. Amanita suggest that Angelica might be from Nomi's "criminal past", but Nomi denies being a criminal and calls herself a "Hacktivist". Amanita mentions her hacking for security companies but Nomi rebuts that it's not hacking if she was paid for it. Nomi continues their conversation about Angelica and shares that she believed that it was from her old security companies but dismisses it. Amanita states that Nomi has experienced a lot in her life, and Nomi says Amanita has too. Amanita denies it, telling her that she has been working at the same bookstore since they met, and will continue unless she starts working as a stripper. Nomi gently pulls Amanita to her and the two kiss. Nomi then asks Amanita a question, telling her to answer honestly. Nomi asks if she sounds crazy, and Amanita suggests that she should write about it. Amanita tells Nomi that Nomi has always acted crazy during Pride Day, and tells her that if she had parents like hers, she'd be homicidal.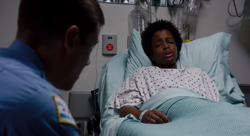 Will visits Deshawn, still being treated at the hospital. Will and Deshawn talk about their fathers. Will shares that he has been thinking about Deshawn's father getting shot and that his father had also been shot. Deshawn asks if his dad was shot dead and Will replies that some parts of him are, including his career. Deshawn complains about cops getting attention when they get shot, but people like him are treated like nothing. Deshawn then asks Will to share his story during from teen rebellion days, and Will does. Will has a flashback when still he was young. His dad, Michael, handcuffs him to the backdoor of his police car for shoplifting and then apologizes to the owner of the store that Will stole from. While Michael apologizes to the owner for his son's behavior, Will grabs a paper clip and bends it to unlock his handcuffs. Will runs away from the scene while Michael yells at him. Back in the present, Deshawn was impressed by Will's lockpicking skills, and Will explains that he was always playing with handcuffs whenever he was bored at the police station. Deshawn asks Will to teach him how to unlock but then tells him he should leave. Before leaving, Deshawn tells Will that he will never forget what he did for him and then Will leaves.
Nomi updates her blog talking about her past life. Nomi talks about her parents teaching her that she is something that is wrong and offensive. She shares that her mother, Janet, had been a follower of Saint Thomas Aquinas and calls Pride a sin. Janet believes that Pride is the ultimate gateway sin that would turn people to sinners but Nomi rebuts that hating and shaming is also a sin. She declares that she is marching for that part of her, and to remember that she isn't doing this for herself but also for others who had lives similar to hers. She ends the blog by telling Saint Thomas Aquinas to go fuck himself, while Amanita cheers at the background.  
During this scene, the six other sensates were shown briefly. Kala seems hesitant, Sun is sitting outdoors holding folders, Lito staring at the mirror at his movie's filming, Riley walking down a street while covered in blood, and Wolfgang partying with Felix. Capheus is lying on top of his matatu, staring at the night sky when he is transported into the San Francisco Pride Parade. Will finds Michael in a diner, sleeping. He wakes him up and carries him back to their house.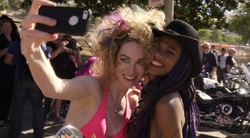 Nomi is then celebrating at the San Francisco Pride Parade. Amanita and Nomi are riding motorcycles along with others at the Pride Parade. Nomi takes pictures of the event while riding the motorcycle with Amanita when she sees Jonas in the crowd and envisions Angelica's suicide again. Nomi suddenly falls off the motorcycle and lies on the road unconscious.
Back in London, Riley still covered in blood, had just left the place where Jacks and Nocker died. Riley walks down the street and sings a song in Icelandic. As she sings, we see Nomi in a hospital gown, also walking and singing along with Riley. Riley then visits Nomi at the hospital where they are both singing.
After the incident, Nomi wakes up at a hospital with her family. Her sister, Teagan, notices Nomi has woken up and informs their mother, Janet. A nurse then comes to see Nomi, mistakenly calling her Michael, and Nomi corrects her, saying that her name is Nomi. The nurse apologizes, telling her that Janet has been calling her Michael. Janet says that Nomi is a stupid name and that she was named Michael before she gave birth and until she (Janet) dies. Teagan cuts her off and tells her to stop. Janet tells Nomi she shouldn't been riding motorcycles and continues to tell her negative information about them. Nomi asks where Amanita is and Janet says she left due to the hospital only allowing family. Nomi states that Amanita is her family. Nomi suggests that they should leave but Janet refuses and tells her negative information about things she will go through.
At the police station, Will recalls and tells Diego about him not believing Will's found evidence. So Will uses the computer to access a CCTV camera that is angled at the abandoned church. In the video, a car pulls up and then the video cuts. They observe that about two hours of video has been erased and notice that a man was present during all those hours.  
Back in the hospital, Dr. Metzger shows Nomi differences of her brain and a normal brain while her family listens. Dr. Metzger frankly addresses Nomi that she has UFLS or undifferentiated frontal lobe syndrome and that it require an aggressive and expensive surgery to remove the metastasizing tissues. Nomi is terrified for herself and asks him if she doesn't do surgery.
Dr. Metzger states that she would begin to feel very real and intense hallucinations and synesthesia, loss of memory and occlusion of identity. Janet also adds that she would die within six months and then Teagan tries to cut Janet from talking. Janet tries to comfort Nomi but Nomi refuses to be touched by her and asks them to leave as she cries.
Lito arrives at the premiere of his latest movie, Love Has No Boundaries But Death, along with his co-star, Daniela. They stop as they are being interviewed by a reporter. The reporter mentions Lito as one of the sexiest men in the world voted by En Fuego then congratulates him. The reporter notices that it's the second time they've seen Daniela with Lito and asks if the two are an item. Lito replies that they are just friends and Daniela corrects him, saying they are good friends. Daniela states that he's a great dancer and that his father taught flamenco. Lito corrects the reporter, stating his father taught in Barcelona but lived in Bilbao. Lito mentions that Daniela gets more attention than him when they're dancing, admiring her that he's a better dancer, then they leave. 
Kala is with her family and friends at their engagement party. Rajan gives a speech where he reminisces their relationship before he proposed, stating that she seem to have no interest in him and that he felt discouraged asking her out. He shares that after he sent her flowers on her birthday, he had a chance for a date. In their date, they watched a movie, A Match Made By God, along with their relative. When Kala tears up during the movie, Rajan hoped that one day she would feel that same way about him.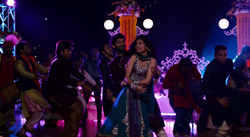 The audience claps as Rajan and his groomsmen surprise Kala with a dance performance. In the dance, Kala was taken by Rajan and she dance nervously. Rajan and his groomsmen provoke Kala and her bridesmaid to dance with them and they did. Kala's father, Sanyam, stands up and hugs Rajan then Kala. Sanyam tells Kala that he really likes Rajan. 
The Night after the premiere, Lito and Daniela are walking together. Daniela admires Lito's proficient acting and the conversation continued about how he's great at lying. Daniela flirts with Lito, trying to invite him in her apartment, but Lito refuses, saying that he has to leave early tomorrow. Daniela doesn't get disheartened and Lito leaves. 
Wolfgang is shown having sex with a girl named Anja. Kala feels Wolfgang's heat and complains that it's getting hot. Kala's sister, Daya, tells her that it wasn't hot until Rajan started dancing. The two talks about him while Rajan looks at them from the distance. After Wolfgang and Anja are done having intercourse, Anja smokes a cigarette. Wolfgang says that he has a sudden craving for Indian food and then Anja passes him the cigarette. Rajan talks to Sanyam about his food, appreciating it. Sanyam asks Rajan's father, Sahana, if there's anything he could help about the wedding. Rajan and Sanyam admires each other's performance and food respectively. Rajan asks Kala if she liked it and Kala says she did. Rajan then asks Sanyam if she could borrow Kala.
At Lito's apartment, asks the person on his bed if they're awake. When he gets no reply, he opens the lamp revealing Lito's boyfriend, Hernando. Hernando says he's finally awake and they kiss. As Lito undress, they talk about Lito's night at the premiere. Hernando says that he's jealous and that he wants to be his arm piece. Lito recites a line from a movie:"Why be jealous of the arm, when you already have my heart?" and the two laughs. Hernando asks him if he thinks Daniela knows anything about him being gay and Lito replies that she just wants what she can't have. Hernando reaches and grabs Lito's crotch, claiming possession of it as they kiss. 
Wolfgang and Anja are having dinner at an Indian restaurant after saying he was craving Indian food. While the two were talking, Wolfgang states he's not looking for a relationship. Anja asks him what is he looking for but Wolfgang sees Kala walking and doesn't reply.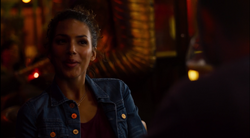 In India, Kala also sees Wolfgang as she stands on a balcony and they look at each other confused. Anja tries to draw attention back to her after Wolfgang zones out. Eventually Wolfgang stops seeing Kala and reacts to Anja. Anja asks him if there's someone else and he replies no. 
Lito and Hernando are awakened by a buzzing sound. Lito checks and it was Daniela on their door. Daniela tries to persuade Lito into letting her in while Lito tries to tell her to go home. Eventually Lito allows her to enter when photographers starts taking pictures of her. 
At the balcony, Kala is with Rajan. Rajan talks to her about their future. Rajan says that there are things that seem separating them like their family, religion and that she can sing and he can't. Kala disagrees as he giggles then Rajan holds her hand and kisses it. He continued as he says that even though they grew up in separate worlds and that he only wants to live in the world where the both of them are together. They look at each other in the eye and Rajan kisses her. Rajan and Kala tells each other "good night" then Rajan leaves. Kala looks back again at the place where she saw Wolfgang. 
Lito opens the door and Daniela quickly enters as she holds her bottle of wine. Lito follows her to the living room. Lito tries to convince her to leave then Daniela tries to pull on his robe. Daniela says she knows that he's going to break up with her but says that they can break up tomorrow as she removes her top. Daniela tries to seduce him but Lito grabs her hand to stop her and tells her that he already loves somebody else. Lito sits on the couch then Daniela removes her shorts. Daniela grabs her bottle and quickly runs upstairs and Lito chases after her.  
While running she asks him what's the problem was. After she arrives upstairs, she sees Hernando. Hernando answers her question saying that the problem was she doesn't have a penis, revealing that Lito is gay. Lito laughs at what Hernando said and says Hernando is just his friend. Lito fails at trying to fool Daniela. Lito sits down and Daniela proves that they need her. Daniela, becoming an expert at deflecting the rumors due to her family, declares that she will deflect any rumors about him. Daniela climbs on their bed and the three of them take a sip from their wine. Hernando asks her what she would get from this and Daniela tells him that this is her dream. 
Riley enters her place and locks the door as she breathes heavily. She takes off her clothes and turns on the shower. Will is shaving back in Chicago as Riley washes off blood from her skin. Both of them look in the mirror and see each other.  
Nomi is checking the computer next to her as a nurse enters bring her medicine. Nomi asks the nurse why the door was locked and the nurse replied that it is policy. Nomi tells her that she wanted to leave but the nurse doesn't allow her saying only Dr. Metzger is the only one that can release her. She tells them that they can't keep her there against her will, and the nurse explains that Janet and Dr. Metzger had signed the papers. The nurse hands Nomi her medicine and leaves.   
Diego tells Will that he had psychic experiences. He says that his dog, Dikta, starts barking at a man and a few days later Diego realizes that the man was a sex offender through a warrant. Will believes him, saying that animals can sense things that humans can't. Their chief tells the other police to sit down and listen and a federal agent enters. The agent revealed that a wanted terrorist, named Jonas Maliki, is present in Chicago. Will tells Diego he knows him but doesn't remember how. 
Nomi's face lies on a window as she stares outside when she hears someone call her name. Nomi turns around and sees Jonas. She asks him how she entered the room when the door was locked and he replies that if he answers she won't believe him.  Nomi realizes that he was the person she saw at the Pride Parade before passing out and Jonas confirms it.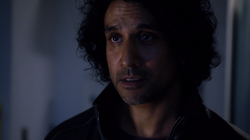 Jonas says that he was looking for her but Nomi thinks that she is hallucinating Jonas. Jonas tells her that the operation was designed to lobotomize her and to follow her instinct on escaping. Jonas disappears and Nomi hears someone knocking on her door, which comes from Riley. She whispers and tries to confirm is Amanita was the person knocking but the knocking stops. Nomi believes that she is hallucinating. 
As Riley packs her bag, she hears someone knocking on her door. She doesn't answer and the person starts banging the door. She stops and stares at the door knob as it is being unlocked. A man enters her place and inspects her stuff. Riley walks away silently without being noticed, escaping successfully. Riley walks down a bridge when she hears her phone ringing. When she opens the bag, it reveals all the drugs and money from Nyx. 
Will comes to bar to talk to his dad. As he enters, Michael's friends ridicule him for saving Deshawn's life.  Michael and Will sit and Michael mocks him. Will tries to leave but Michael stops him. His father says that he's proud that Will saved Deshawn's life but he shouldn't blame it on anyone when Deshawn grows up and kills someone. Michael says that Will seems to already know that and that that's not he came to talk about. Will says that something's happening and that it might be related to Sara Patrell. Michael doesn't believe him and warns him not to tell anyone else. Michael says that they will drag him into psych evaluation before he can fix things. He advices Will to forget and let go.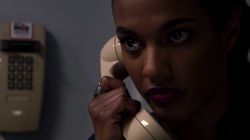 Nomi hears the phone ringing beside her but doesn't answer at first thinking that she's hallucinating. Eventually she answers, and hears Amanita's relief.  Nomi asks where Amanita is and she replies that she's in the hospital but they won't let her see Nomi and that Nomi's floor is heavily guarded. She mentions that she could only contact her because of a friend, Lola. Nomi tells Amanita that she's been seeing, feeling, hearing things. Amanita tells her that they'll figure it out in the future but as of now she won't let anyone touch Nomi's brain and burn the hospital if she has to.  Nomi tells Amanita that she saw the guy from her dream, Jonas, stating that he was at the parade and also in her room. Amanita opens her phone and describes Jonas' appearance and claims to her that she is not hallucinating. Lola tells Amanita to leave as more guards walk by. Nomi and Amanita tell each other "I love you" before saying goodbye.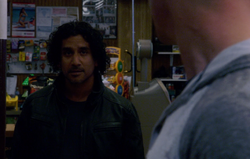 Will enters a convenience store and asks the person working there and asks for sleeping pills. He tells Will that they're at the second aisle. As he looks at the drugs, he goes over to another aisle and grabs a magazine about psychics. Will hears someone enter the convenience store and looks up at the convex mirror and sees Jonas. Jonas comes to Will and introduces himself. Will tells him he knows him and Jonas asks him if he's going to trust others or his instinct. Will ask him how he knows his name. Jonas replied that Angelica, the woman that gave birth to Will before committing suicide, told him. Jonas tells him that he's reborn a sensate and tells him accurate events that happened to Will. Jonas explains to Will things that happen when becoming a sensate. Jonas tells him that he has to leave for a plane but Will refuses to let him go. He tells Will that a girl in San Fransisco, named Nomi Marks, needs his help like Sara Patrell did. Will gets confused and stops Jonas from leaving. Jonas fights off Will and runs off to his car. Will chases after him. Will bumps into Jonas' car and Jonas visits him as he sits next to him. Will bumps to Jonas' car again and this time Will visits him. The car chase ends with both of them colliding, leaving Will unconscious.
Guest Starring
Edit
Co-Starring
Edit
Uncredited
Edit
Sensate Connections
Edit
Notes and Trivia
Edit
Episode Stills
Edit
Memorable Quotes
Edit
---
---
| | |
| --- | --- |
| | A complete overview of this episode's crew can be found here. |
References
Edit